6 Cool Laptop Bags
I was cleaning out our spare room the other day and I found an old IBM laptop bag.  It was like finding an old pair of pants – still lots of wear in them, but hopelessly out of date.  This bag is six inches wide when collapsed – and expands to about three times the size.  I remember having two laptops in it at one time, and still room to hold the rest of my paperwork.  The good news, I don't think I will ever need to lug around those Pentium paperweights.  The bad news is, I can't throw out the bag – it's still in great shape.
After I listed the bag on craigslist, I thought I'd take a look at what designer laptop bags look like at this time:
- This is an interesting bag from Yanko design.  The tri-fold design gives you a few options, from a decent sized weekend bag, to a unique looking laptop bag.  To eliminate waste, the bag is constructed from a single piece of fabric. $295 is on the high end (ok – completely out of) my budget, but it is an interesting bag, and you're likely to be one of the few sporting this look.
If you're looking for something that represents your vegan beliefs and you want to show your love to Steve Jobs, this laptop bag might be the right accessory for you.  A collaboration between Apple and Matt & Nat has produced these good looking bags, complete with a lining derived entirely from recycled plastic bottles.  With a look reminiscent of MJ in the 80's, this little thriller from Canada will protect your laptop – even if it's not a Macbook (but it's designed to fit a 13" Macbook)
For the vegans that are doing extremely well as freelancers.
If you're the kind of freelancer that likes to decrease your carbon footprint, save plastic water bottles from the landfill and wear a badge that proclaims your commitment; this might be the emblem for you.  The Puku is a good looking, durable bag, with a small badge that states how many water bottles were used to produce it.
Not a bad looking bag, but what's really nice is the security that comes with this case.  If you're a travelling freelancer this might be the right option for you.  Slash proof shoulder strap, lockable zippers and enough slots to make your travelling seem organized; all for a reasonable $99 for a 13" laptop. Their copywriting is a bit bold – "Travel exotic locales – stroll urban sidewalks – without worrying about thieves snatching your bag!" – no comment about any other crimes that might be committed, but hey, at least your laptop is safe!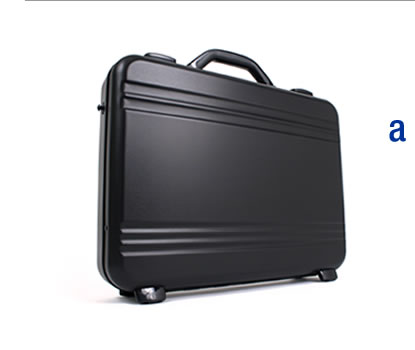 Maybe you're the kind of freelancer who is a bit hard on laptop bags.  Dropping them in the sand off your beach cruiser, dragging them through mud puddles, or leaving them out in the rain.  If that's your situation, I doubt that a better case is going to solve your problems, but you might be interested in this good looking Black Aluminum Laptop Armor.  "A limo for your laptop."  It's just like your third grade gym teacher; hard on the outside, soft on the inside.  $170 to house your delicate 12" – 15" laptop.
If you're between contracts and don't really want to spend any money but you really want a new laptop bag, why not make your own?  Sure, it's supposed to be a knitting bag, but it's the perfect way to use those amazing bellbottoms at the bottom of your closet.   If you're extra creative, you might be able to share that Jordache design.
iPad Options
For the freelancer's who opt to leave the laptop at home, here are some great ideas to protect your iPad: Who doesn't want to convert their iPad into an etch-a-sketch?




If you're into custom builds, you can make your own slick iPad case out of a Franklin Binder like in this instructables demonstration.
If you're like me and not coordinated enough to make your own iPad cover, you could just buy one here.







And for the fanbois that want something other than the lonely apple emblem atop their Macbook, here are some sweet decals to brighten up your shiny case.
Or – if you want a laptop that you can double as a crate for a small dog, give me a shout and maybe I can send my old heavy bag to you.  The case is free – but shipping something this big and heavy is going to cost a bit…